Preoperative Joint Replacement Instructions
Preoperative Hibiclens Bathing Instructions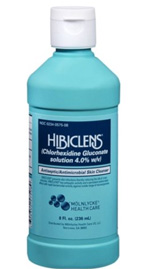 Before surgery, it is important that you take an important role in your surgical care. To assist in the prevention of a surgical site infection we ask that you follow these instructions before joint replacement surgery to prepare your skin to be as germ free as possible.
The Centers for Disease Control and Prevention most recent guidelines -- "Require patients to shower or bathe with an antiseptic agent on at least the night before the operative day."
We recommend using a special soap called chlorhexidine gluconate (CHG). A common name for this soap is Hibiclens. If you are allergic to CHG or for any other reason that washing with CHG is not possible, please follow the instructions below and use antibacterial soap.
Chlorhexidine reduces the number of microorganisms on the skin and keeps that number down for several hours.
Prior to your operation, two chlorhexidine antiseptic showers are recommended.
WHEN TO USE
First Shower -- Have your first chlorhexidine shower on the night before surgery.
Second Shower -- Have your second shower on the day of surgery, before you come to hospital.
HOW TO USE
Wash your hair and body as usual with your regular shampoo/soap
Thoroughly rinse your body with warm water
Turn off the water to prevent rinsing the CHG soap off too soon.
Apply the minimum amount of Hibiclens necessary to cover the skin around the planned surgical area. Typically this is from the base of the neck down the arm with a lot of attention to the arm pit. Use Hibiclens as you would any other liquid soap.

Do not scrub too hard

. You can apply Hibiclens gently to the skin and wash gently for

5 minutes

with a wash cloth. Pay special attention to the area of surgery.
Turn the water back on and rinse thoroughly with warm water
Pat yourself dry with a clean towel
Do not apply lotion, powders or perfumes to the areas cleaned with Hibiclens
Put on clean clothes
Click here to download Preoperative Checklist